Choose UrbanHub
The smart transport platform designed to make travel simple.
Powering 130m+ passenger journeys a year
The smart transport platform for cities and operators
We're ready to change the world of transport and make travel simple for cities, operators, and passengers. This why we created UrbanHub, the smart transport platform designed to accelerate the use of sustainable transport.
Our technology powers 130m+ passenger journeys a year and provides market-leading transport apps, websites, mobile ticketing, payments and powerful analytics tools.
Ready to give it a go?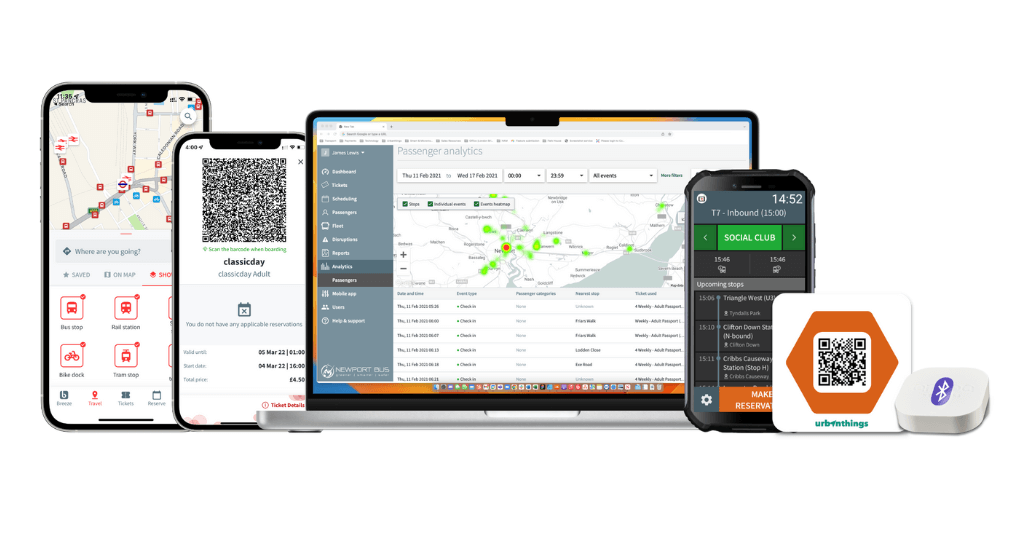 Powerful features to make travel simple
With UrbanHub you can deliver a modern, sustainable and efficient passenger experience. Plus, you have access to powerful mobility data, helping make the best decisions and optimise your services. Incredible features include:
Barcode m-Ticketing
Your Personalised App or Website
Live Passenger Information App
Account Based Ticketing
Passenger Data Analytics and Live Reporting
Web based e-Ticketing
Live Web & App vehicle tracking maps
Driver App & GPS bus/coach tracking with reservation management
Journey planning, including micro-mobility options
In-App Communications
Discover UrbanHub products
App

Your branded app, where passengers can plan journeys, book and pay for their tickets, and access real-time information.
Web

Your fully branded website.
An easy alternative for passengers who don't have a smartphone.
Roam

An affordable GPS solution that will provide accurate vehicle tracking. Maximise your fleet capacity with on-board reservations.
Base

Your back office platform where you can collect all the mobility data, plan and monitor your services and get insightful reports.
Link

We provide an efficient integration into your existing systems so you have a central hub for your data. You don't need to worry about compatibility!
Help

Our technical team manages all your customer support enquiries 24/7.
We've got you covered.
Why Choose UrbanHub
Optimise your Services with Powerful Technology

With one central integrated platform, you can monitor, plan and improve your services using the mobility data we collect. Do you need a passenger app, a website, or a hybrid solution? We know that operators or cities are different. The solution is flexible according to your needs.
Deliver Excellent Passenger Experience

With multi-modal journey planning and mobile ticketing, travelling and accessing real-time information has never been easier. Attract and retain passengers by providing excellent transport services and different mobility options in the same place.
Offer Sustainable Services for Smarter Cities

Help your passengers make the sustainable transport choice and make an action for positive change.
With powerful data insights and report results, measure progress and optimise your services.
Let's achieve climate goals!
---
"The platform offers a modern, easy-to-use and reliable mobile travel app to our passengers. The launch of the app follows the implementation of contactless payments and will bring additional convenience and flexibility to bus travel […] I am hopeful that it will encourage more people to give the bus a try and make the switch."

— Scott Pearson, Managing Director at Newport Bus
---
Try UrbanHub now
Ready to make travel simple? Whether you're looking for a passenger app, website, a complete platform, or more information, complete the form and our team will be in touch.
They trust us